Thursday 2nd June sees the launch of the 2016 Cat Laughs Comedy Festival here in Kilkenny city. The festival hopes to attract huge crowds over the long weekend and with the sun forecast to shine throughout, there is no reason for it not to be a roaring success like every other year.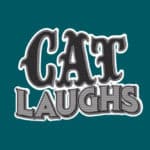 The well known festival invites comedy lovers and tourists alike to the medieval city where they have the opportunity to see the popular sights like Kilkenny Castle as well as attending gigs and events.
The bank holiday weekend will also see locals and visitors flock to the centre to just enjoy the relaxed, fun atmosphere and use it as an excuse to dine out.
With many looking for authentic, delicious food that is value for money, we here at Royal Spice have an extensive range of Indian dishes that are sure to meet any food lovers expectations. From delicious curries to tasty authentic vegetarian dishes with an Indian twist.
Our early bird menu is available from 5pm all weekend with our à la carte menu available from 7pm. We also cater for large groups and we encourage pre booking your table to avoid disappointment