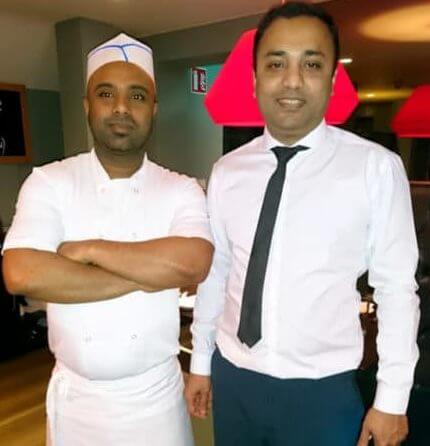 Restaurant industry has always been an interest of mine and my passion was to open a restaurant of my own someday. My profession has always been in the catering industry and it was my aspiration to expand my knowledge further in this field of work. I pursued my education and graduated with a degree in business management. Enhancing my knowledge of business and gaining a more competent and experienced set of skills, I began the journey of venturing out to open my own restaurant.
After much research, I found a great spot in the beautiful city of Kilkenny that was perfect for the new journey I was about to embark on. The plan to create the perfect atmosphere and set the stage for a comfortable and classic Indian dining experience was a long, well thought through process but a most enjoyable experience. In 2009, the dream became a reality and we opened our doors to the warm and friendly people of Kilkenny. Kilkenny is such a beautiful city and it was a pleasure to meet and serve the people, creating relationships not only on a customer basis but on a personal level and developing friendships with our visitors to the restaurant. The restaurant soon developed a loyal following from locals and tourists alike. After many years of service we decided to relocate to a new premise to up style and reinvent Royal Spice.
We moved to a larger purpose built building located in 2 Watergate gardens in 2015 and after a short break to renovate Royal Spice we reopened our doors and continued our passion to bring the ultimate Indian dining experience to our customers once more. Our new establishment has proved to be the making of a new experience all over again for me rediscovering and learning new insights into the catering industry. I firmly believe in great customer service and delivering on quality and that was my aim and goal for the rebirth of our restaurant in its new location.
With this goal in mind I have set out and am continually experimenting with new ideas and experiences for my customers. I regularly update and implement any exciting themes to my deliverance in the catering business, ensuring to keep up to date with the latest trends, recipes, events, and entertainment opportunities to add to our establishment.
Royal Spice and its skilled and passionate team aspire to pursue and sustain our level of enthusiasm and desire to deliver a professional standard of service and emanate our pride for our restaurant at all times. We aspire to create the perfect dining experience for our customers, upon entrance to departure we ensure to provide you with an experience of an Indian dinning delight from food to service. I sincerely hope you will enjoy your visit to Royal Spice and am eagerly awaiting to meet with you and introduce you to what is promised to be an experience you will remember and want to re-experience again soon.
[wpseo_address oneline="1″ show_state="1″ show_country="1″ show_phone="1″ show_phone_2="0″ show_fax="0″ show_email="1″ show_logo="0″]