Classic jalfrezi a true gem on any Indian menu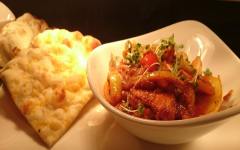 One dish that has proved its worth among the dishes introduced to the Indian dining experience is the popular choice of Jalfrezi. Jalfrezi is a dish that is recommended by many restaurants but here at Royal Spice it's something to be experienced rather than just a recommendation. We pride ourselves with our high standard of service front and back of house and this standard reflects in our food.
One dish that we highly suggest our customers to sample on our menu is Jalfrezi, a classic dish originating from Bengal. The meaning of the word Jalfrezi is derived from the colloquial Bengali word Jhalpharezi which translates to hot or spicy. Traditionally it was a dish that was made from leftovers in the home and transformed into a curry bursting with flavours and spices. The dish would consist of whatever leftover meat was in the home and fried alongside in a base of onions and chillies, adding to the fusion any vegetables wished to be added. The sauce for the curry merges together along with the existing ingredients to transform the curry into something special. The combination of flavours and ingredients complement each other to deliver a taste experience not to be forgotten.
At Royal Spice, we aim to recreate this classic dish as best we can to deliver the authentic taste of the traditional Bengal dish Jalfrezi, but skipping the use of leftovers of course! We pride ourselves on sourcing our ingredients to a high standard. Our meat is sourced from the local butchers as we believe firmly in supporting local businesses in the area. We also import specially selected spices from Bangladesh to bring to the dish the aromatic ambience and originality to the dish.
The process of making the dish begins with cooking the onions until a rich golden colour appears then adding to the pan a mixture of fresh peppers, tomatoes, chillies and ginger. As the curry cooks and the flavours interweave among each other, a thick sauce is created to form a base sauce for the dish. The flavours and aromas from the dish that emerge are in itself a treat and one that should be experienced in your Indian dining adventures.
Although considered as a hot dish, it is not something that should deter you of trying out as it can also be made to your taste by our chef on request. A great side to accompany the dish and adjust the level of heat intensity would be a serving of rathia (yoghurt and cucumber chutney), as it pairs with the dish nicely as a cooling chutney to accompany the flavours of the curry. Jalfrazi is sure to be a new found favourite in your exploration with Indian food. We at Royal Spice are positive that you won't be disappointed with this dish and are sure it will be a new experience you will desire on your returning visit.