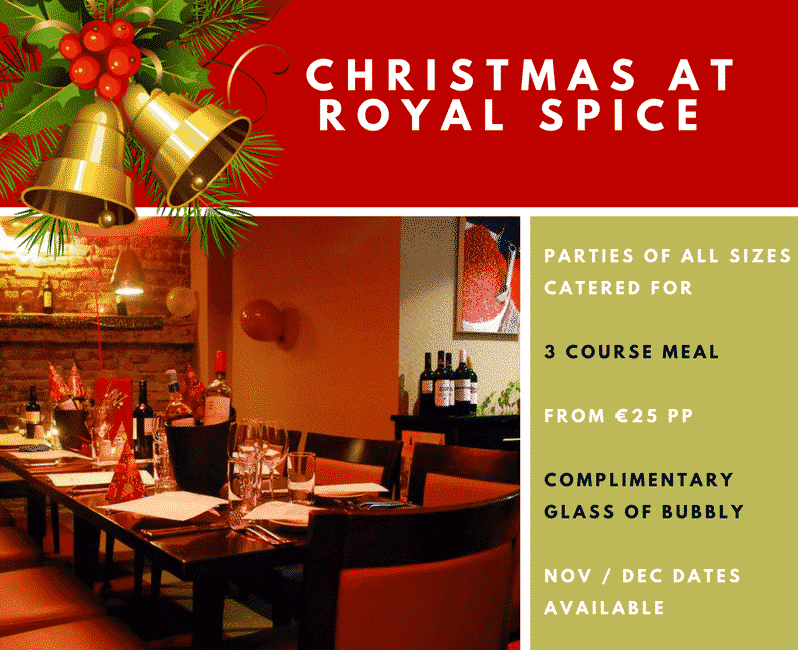 Christmas at Royal Spice
It's the most wonderful time of the year! Join us this Christmas at Royal Spice and dine in stylish surroundings with a comprehensive 3 course meal and a complimentary glass of bubbly .
Check below for our special festive menu with all our dishes created using the finest of local ingredients.
Local Producers:
Chicken Fillet – Butlers family farm
Duck – Mary Walsh, Kilkenny Free Range Farm
Lamb – Castlemine Organic  Farm
Trout – Goatsbridge Trout Farm
To Begin
Veg Shingara          V
Traditional lightly spiced Bengali shingara filled with specially selected fresh local seasonal vegetables. Served on bed of onion chutney and accompanied by mango & basil chutney
Murg Sajn            MK, MU, GF
Local free range chicken fillets marinated overnight with radhuni spices. Slow cooked in a clay oven. Accompanied with a beetroot & onion chutney
Boti Kebab            MK, MU, GF
Organic fillet of lamb marinated with special herbs & cooked in a clay oven. Accompanied by a delicious mint chutney sauce
Trout with Aloo Bora             EG, WH
Trout fillet lightly spiced & pan fried. Served on a bed of chutney aloo, garlic & fennel seed
To Follow
Royal Duck                     MK, GF
Local free range duck on the bone slow cooked to perfection with in-house blended spices & onion.
Served in a creamy mango sauce and garnished with organic coconut flakes.
Ghost Bilashi                   GF
Organic lamb fillet cooked with garlic and onion & freshly ground spices with a twist of Bangladeshi satkora
Macchi Vujon                    MU, GF, FI
Trout fillet cooked with onion, tomato, curry leafs & house special sauce, Kashundi mustard sauce
Niramsih Tadka                   GF
Fresh local seasonal chunky vegetable & split lentils cooked with some light spice
To Accompany
Saffron Rice, MK, GF or Garlic & Coriander Naan, MK, EG
To Finish
Mango or Lemon Sorbet    GF
3 Scoops of sorbet of your choice. Served with honey or chocolate sauce.
Indian Lassi    MK, GF
It comes with homemade yoghurt, mango pulp and sugar. Finally everything is blended altogether.
3 Course Meal € 25 per person + Complimentary Glass of Bubbly*
* Complimentary glass of Bubbly for Christmas party bookings of 8 people or over only
Information about allergens in our dishes:
Sesame (SE), Crustaceans (i.e. crab, lobster) (CR), Eggs (EG), Fish (FI), Peanuts (PN), Soya (SO), Milk (MK),
Tree Nuts (TN), Celery (CE), Wheat (WH), Sulphites (food additive, preservatives) (SU),
Lupin (seed flour) (LP), Mustard (MU), Molluscs (i.e. squid, octopus) (MO), Gluten Free (GF)
             – mild                        – medium spicy                                – very spicy                V – Vegetarian